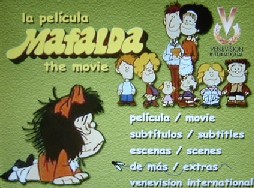 By the time he finished the story, in 1973, Canal 11 from Buenos Aires (Argentina) began issuing a series of animated shorts, produced by Daniel Mallo, where the characters conversed Quino.
This led subsequently to
Mafalda film, which was conducted in 1979 and released in Argentina in 1981, in Buenos Aires.
The film, p
roduced again by Daniel Mallo, featured the animations of Jorge Martín (Catú), music by Riz Ortolani, Alberto Cabado screenplay and directed by Carlos Márquez
. As it was a montage of short made for television, in film there was a link between a story and others, which, however, he did not lose the essence of the character.
It lasted 75 minutes, and in 1982 was released in Spain under the name of "The Worlds of Mafalda."